ROMANTIC WAYS TO PROPOSE
The thrill of the journey combined with the glamour of vintage rail travel make Belmond British Pullman the most romantic way to propose.
Set off on a surprise trip and let one of our chefs conceal a ring among the petits fours. Your steward will stand poised with a bottle of chilled champagne.
Select journeys, including The Golden Age of Travel and "The Dinner", conjure an atmosphere that perfectly captures the era of breathless romance.

Belmond British Pullman is also a stylish venue for wedding receptions or engagement parties. Take over a single carriage or charter the entire train for a uniquely glamorous celebration.
Dress up for the occasion, step on board and allow yourself to be transported back to a more gracious time, rich with romance and adventure.
We can even arrange your honeymoon in one of our iconic Belmond hotels, situated in romantic destinations worldwide.
Contact us
Plan your Journey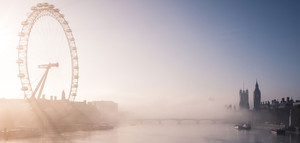 Go all out on romance with an overnight stay at a luxury hotel in London.
Read more