BELMOND FLEUR DE LYS
Dijon to Vandenesse-En-Auxois: Tour Burgundy's chateaux and vineyards in opulent style on Belmond Fleur de Lys.

From the history and culture of Dijon to the pastoral beauty of Vandenesse-En-Auxois, set off on one of the most scenic river cruises Europe has to offer.
With interiors enriched by authentic Indian furnishings, including ornate fabrics and four-poster beds, Belmond Fleur de Lys is a visual treat.
Three spacious cabins each have en-suite bathrooms and dressing areas.
Enjoy the panoramic vistas from the heated pool on deck, 
or unwind in the air-conditioned lounge. Sumptuous dinners are served in the dining room. After, retire to the lounge and strike up a tune on the grand piano.
Whether travelling with family or friends, Belmond's luxury French tours are sure to provide countless memories to cherish.
Available: Private hire.
AMENITIES
Lounge with large windows and a grand piano
Sun deck with a heated swimming pool
WiFi and computer with internet access
Bose iPod docking station
Selection of books, games, satellite TV, DVDs and CDs
Writing desk and chair
DETAILS
Capacity: 6 passengers
Length: 129ft/39.3m
Width: 16.567ft/5.05m
Decks: 2
Crew: 6
Plan your Journey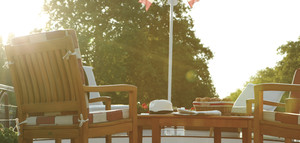 Find the perfect reason for the trip of a lifetime.
View offers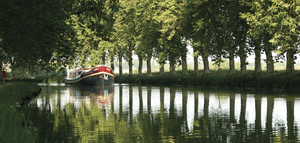 Learn more about our barge cruises in France.
Select brochures
The Fleet
Belmond Alouette
Route: Carcassonne to Béziers
Capacity: 4 passengers
Available for private charter only
Sun deck with a 360˚ view, sun loungers, table and parasol
Full details
Belmond Pivoine
Route: Meaux to Châlons-en-Champagne
Capacity: 8 passengers
Available for private charter only
Sun deck with canopy and heated swimming pool
Full details
Belmond Lilas
Route: Krafft to Arzviller
Capacity: 8 passengers
Available for private charter only
Sun deck with canopy and heated swimming pool
Full details
Belmond Fleur de Lys
Route: Dijon to Vandenesse-En-Auxois
Capacity: 6 passengers
Available for private charter
Sun deck with a heated swimming pool
Belmond Amaryllis
Route: Dijon to St-Léger
Capacity: 8 passengers
Available for private charter only
Sun deck with canopy and heated swimming pool
Full details
Belmond Hirondelle
Route: Besancon to Chagny
Capacity: 8 passengers
Available for private charter or per cabin
Sun deck with 360˚ view, sun loungers, two tables and large parasol
Full details
Belmond Napoléon
Route: Tain to Arles
Capacity: 12 passengers
Available for privatge charter or per cabin
Sun deck with Jacuzzi, sun loungers, exercise equipment and canopied dining area
Full details